Page 1 of 2
Antennas
On the left rotor is an 10 elements Anjo 2 meter vertical beam.
Originally this is a vertical antenna but I have adjusted it so that I can use it vertically.
The Anjo brand comes from Germany and is mechanically of high quality.
Anjo has the double material thickness as the Tonna brand.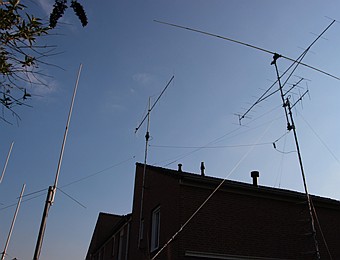 On the left rotor there is an full size Ultrabeam dipole for 6-20 meters.
According to Ultrabeam Italy and Germany. (WIMO) i am the first in the world that assembled this antenna.
The brand Ultrabeam is now in hands of WIMO Germany.
The Ultrabeam is a dynamic antenna.


Click here for the Ultrabeam antenna PDF
Click here for the Ultrabeam antenna controller RCU-06 PDF

the ultrabeam is a dynamic antenna that is controlled by a separate controller.
This controller is connected to the CAT interface of the transceiver.
The frequency reading of the controller is the same as that of the transceiver, the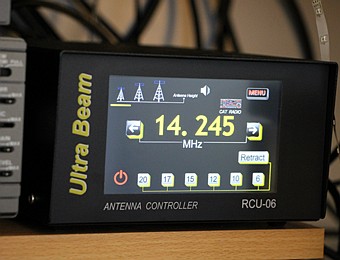 controller then automatically retracts the elements of the Ultrabeam in or out.
So there is always a perfect 1: 1 SWR on any frequency and all bands without using a tuner.
You do not necessarily have to run/change the controller frequency with the transceiver, the antenna is broadband enough.
This ensures less wear to the steering motor.
Below the Ultrabeam is an 14 elements Anjo 2 meter horizontal beam with a boom length of 6.70 meters.
Then there is an Diamond A1430S7 2/70 (3/5 elements) horizontal and a static Diamond A1430S7 2/70 verticale.
Between the 2 systems and the garden is an Wire Daimond BB6W 2-30 Mhz.

In the garden we have an Daimond X300, X200, X50, X510 and X30.
all coax cables come together in my shack and are mounted on a patch panel with N connectors.
Switching between antennas and transceivers can therefore be realized quickly.
Since I have 2 Yaesu's FT991 with one output for 2 and 70 cm, I have I provided the 2 daimond A1430S7 antennas with duplexers. 
The wind relief cables are made of plastic-coated steel and 3 mm thick.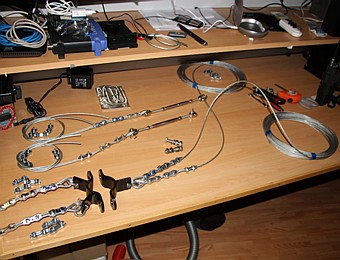 2 Double steel cables on the roof ridge.
2 Steel cables to the front of the house and a single to the back garden.
below some links to films and photos of the antennas including the installation.

                                                                                                                  
      Installation of the Ultrabeam dipole antenna on Youtube (old antenna situation!