Oldies
Article Index
Oldies.
Götting TRX.
I have 2 Götting transceivers the HG70D and the HG70c they are 2M AM,FM,SSB transceivers.
This is a German brand old top class TRX's from 1972 for the D version.
The C version is from before 1972.
The D version was from my dad, he was the first owner, he bought this TRX smewhere 1972.
This version was fully transistorized with an BLY94 in the final
Also they used in some models an CTC-B12-28 as driver and an CTC-B40-28 as final.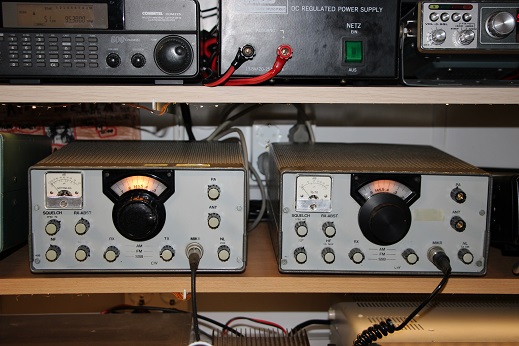 In the C version they used 2 tubes in the final. QQe03/12 as driver and a QQE06/40 as final.
The power output is 40W for both models
both versions looks identically.
See below this page to see pictures from both transceivers
The price in those days where for the C version 2775 DM.
The D version 3075 DM.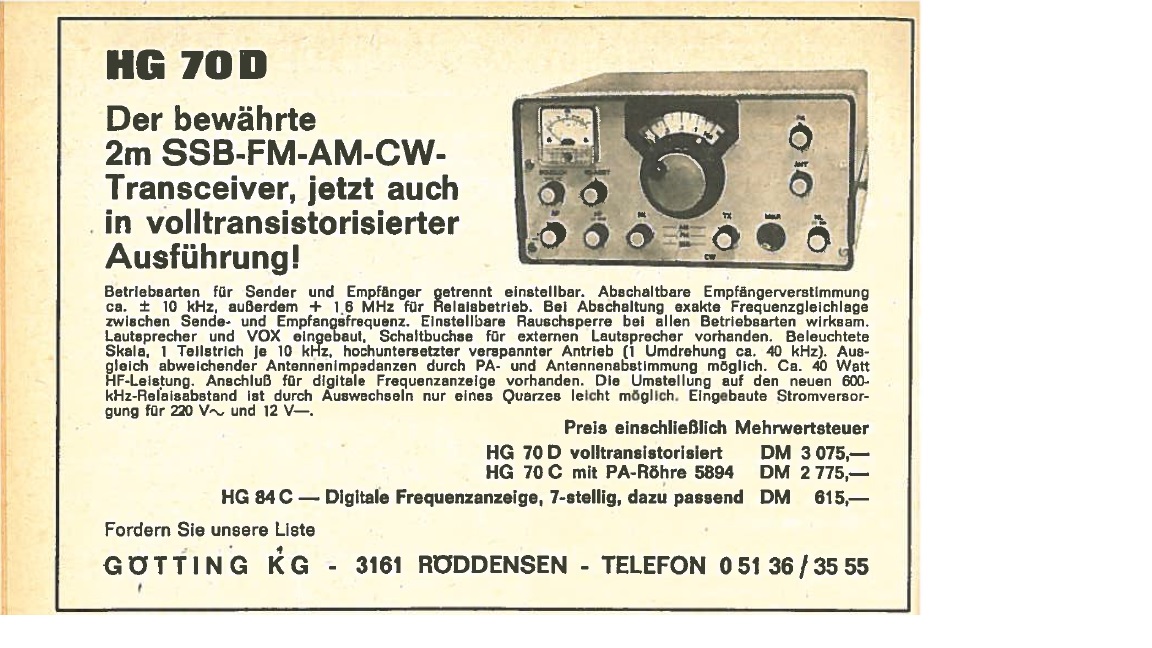 Click here to see my pictures from the D version
Click here to see my pictures from the C version.
Götting TRX Click here to see more about Götting History and equipment. (Source DL8ZAJ)

Click below here to see the Götting C version in action.


                        My film from the repair of the Götting HG70D version
Yaesu FT101ZD
My Yaesu FT101ZD is from 1982.
The transceiver is the MK3 version with the WARC bands.
The previous owner was my father who is also radio amateur.
He bought this transceiver new in 1982.
The transceiver has few transmit ours and is in mind condition.
I cleaned all potentiometers en the deck switch.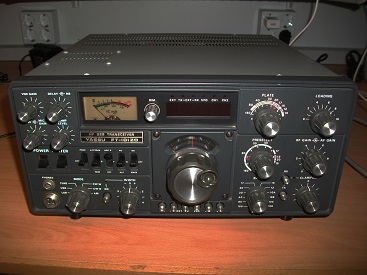 I replaced the "killer condensor" in the final.
it's the condensor between the anode of the driver 12BY7 tube and the first final tube 6146B (2 pieces).
The condensor is originaly an 1000pF 1KV
I replaced it with an 1000pF 3KV.
This part will fail in time and puts then 300V on the grid of the 6146B's, who in turn pull all the current they can get,destroying the tubes and the power transformer.
if you arenot nearby, rendering the transceiver useless.
Click here to see the fotoalbum from replacing the "killer cap"
GENERAL
Type:

Amateur HF transceiver

Frequency range:
10-160 m + WARC in 12 bands


1.8-2.0 MHz (160 m)




3.5-4.0 MHz (80 m)




7.0-7.5 MHz (40 m)




10.0-10.5 MHz (30 m)




14.0-14.5 MHz (20 m)




18.0-18.5 MHz (17 m)




21.0-21.5 MHz (15 m)




24.5-25.0 MHz (12 m)




28.0-28.5 MHz (10 m A)




28.5-29.0 MHz (10 m B)




29.0-29.5 MHz (10 m C)




29.5-29.9 MHz (10 m D)

Mode:

AM/SSB/CW

Power supply:

Mains: 100 / 110 / 117 / 200 / 220 / 234 VAC (13.5 VDC option)

Current drain/power consumption:

RX: 85 VA A (73 VA heater off) @ mains




RX: 5.5 A (1.1 A heater off) @ 13.5 VDC




TX: Max 330 VA @ mains




TX: Max 21 A @ 13.5 VDC

Antenna impedance/connector:

50-75 ohms / SO-239

Dimensions (W*H*D):

345*157*326 mm (13.58*6.18*12.83")

Weight:

15 Kg (33.1 lbs)

RECEIVER SECTION
Receiver system:
Single conversion superheterodyne


IF: 9 MHz

Sensitivity:

AM: 0.5 uV (10 dB S/N)




SSB/CW: 0.25 uV (10 dB S/N)

Selectivity:

AM/SSB: 2.4 KHz (-6 dB), 4 KHz (-60 dB)




CW: 600 Hz (-6 dB), 1.2 KHz (-60 dB), with optional CW filter

Image rejection:

60 dB (12-160 m)




>50 dB (10 m)

AF output power/speaker:

3 W at 10% distortion / 4 ohms

External speaker connector:

4-16 ohms

TRANSMITTER SECTION
RF output power:

AM: ~25 W (50 W DC input)




SSB/CW: ~100 W (180 W DC input)

Modulation system:

 

Max FM deviation:

No FM

Spurious emissions:

Less than -40 dB

Microphone impedance/connector:

500-600 ohms / 4-pin

MISCELLANEOUS
Manufactured:

Japan, 198x-198x (Discontinued)

Additional info:

Tube hybrid

Related documents:
User manual (3 MB)
12BY7A driver
Two 6146B finals
                 My film from the service on my Sommerkamp FT277ZD
 Yaesu FT227R
The Yaesu FT227R is an 2 meter FM transceiver.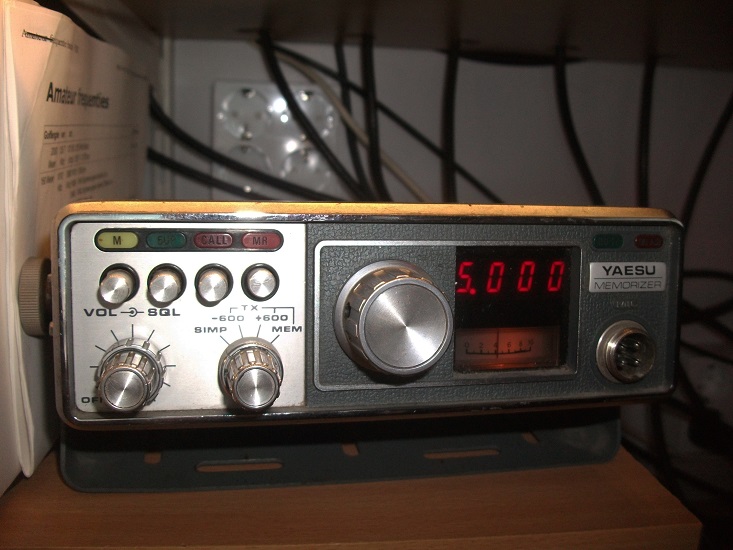 It has 10 Eatt power output and 800 channels.
my father bought this transceiver in 1977.


GENERAL
Type:

Amateur VHF transceiver

Frequency range:

144-148 MHz

Tuning steps:

10 KHz plus a "5 KHz up" button

Mode:

FM

Channels/memory management:

1 regular

Repeater shift/offset:

±600 KHz

Power supply:

13.8 VDC ±10%

Current drain/power consumption:

RX: 500-800 mA




TX: 1.0-2.5 A

Antenna impedance/connector:

50 ohms / SO-239

Dimensions (W*H*D):

180*60*220 mm (7.09*2.36*8.66")

Weight:

2.7 Kg (5.95 lbs)

Other features:

 

 

 

 

 

RECEIVER SECTION
Receiver system:
Double conversion superheterodyne


1st IF: 10.7 MHz




2nd IF: 455 KHz

Sensitivity:

0.3 uV (20 dB quieting)

Selectivity:

12 KHz (-6 dB)




24 KHz (-60 dB)

Image rejection:

 

AF output power/speaker:

1.5 W at ?% distortion / 8 ohms

External speaker connector:

3.5 mm, 8 ohms

 

 

 

 

TRANSMITTER SECTION
RF output power:

Hi: 10 W




Lo: 1 W

Modulation system:

 

FM deviation:

±5 KHz

Spurious emissions:

Less than -60 dB

Microphone impedance/connector:

600 ohms / 4-pin

 

 

 

 

MISCELLANEOUS
Manufactured:

Japan, 1977-1979 (Discontinued)

Additional info:

This was Yaesu's first transceiver with a digital display.




New price 1979 in the US: $385.00

Related documents:
User manual (4.9 MB)
Modifications: