Measuring equipment - Rigol DS1054Z digital oscilloscope
Page 2 of 14
Rigol DS1054Z 4CH digital oscilloscope.
Rigol DS1054Z in the model provides full facilities. All measurement functions are already unlocked. Thus remains the oscilloscope even with increased measurement requirements up to date.
The displayed measured curves can be via the front USB Host directly on an optional USB-stick or via the rear USB port on a computer.
The large 17.78 cm TFT color monitor can be reliably all the details.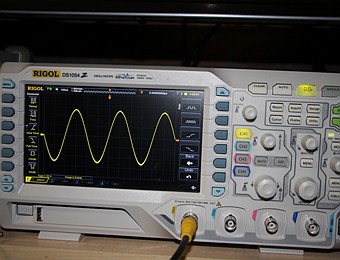 The sampling rate amounts per channel 500 MSa/s and is in single channel mode bundled, so that a sampling rate of up to 1 GSa/s is achieved.
The ultra-vision technology enables the display of overlapping signal intensity-dependent areas and a memory depth 24 Mpts for a detailed signal display.
These features make the DS1054Z to an extraordinary measuring device, which can adapt to your measurement requirements.
Highlights & Details
100 MHz bandwidth (upgrade)

4 analogue channels

Innovative Ultra-vision technology

All optional measuring functions now including

USB interface

17.78 cm TFT colour display
Facts
The optional special functions such as memory expansion, Serial-Bus-trigger and decoder, Extended Trigger-Kit or real-time recording are now in the free bundle BND MSO/DS1000Z including · The BND MSO/DS1000Z-bundle contains the options:

SA-DS1000Z (decoding and trigger tools for the serial buses RS232/UART, I2C and SPI)

MEM-DS1000Z (memory expansion on 24 Mpts memory depth)

REC-DS1000Z (recording function for real-time recording and playback of curve shapes)

AT-DS1000Z (advanced trigger functions for the serial buses RS232/UART, I2C and SPI, Runt, Windows, nth edge, delay, time-out).

This text is machine translated.



Rigol DS1054Z Oscilloscope Review Summary