Page 8 of 13
Power supplies.

Voltcraft FLP-126

Voltcraft FLP 126, 82W Single Output Variable DC Power Supply, Linear, Desktop - Voltcraft FLP 126,
The Voltcraft FLP 126 is a mains adapter with the two most common output voltages. It is ideal for automotive applications in workshops and laboratories as well as hobby and model making.Voltcraft FLP 126 82W Single Output Variable DC Power Supply
Programmable laboratory food PPS-11360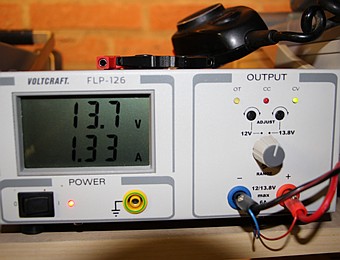 Voltcraft PPs-11360
The PPS series laboratory network supplies serve as a voltage-free DC voltage source for the use of devices with non-hazardous voltage.
The adjustable output can be read from the front up to max. 5A and from the rear up to the full nominal current.
The connection is made at the front with 4mm safety connections, at the rear there are screw terminal connections for high voltage.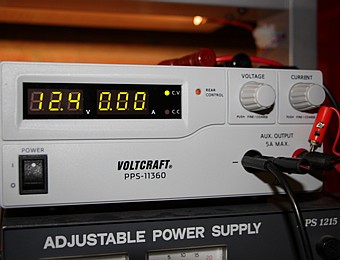 The voltage and current settings are continuously adjusted with a digital rotary knob.
The adjustment can be adjusted sharply or globally, allowing a quick and accurate adjustment of the values.
The values ​​are indicated on a well-arranged display. The current limit for use with constant current can be set without a short-circuit bridge.
Three freely programmable memory spaces can be occupied with different fixed voltages and current limitations.
In addition, the laboratory power supply can be completely remotely controlled via the USB connection.

    Outputs 2 x
    1 V/DC-36 V/DC
    0 A-5 A
    Uitgangsspanning 1 1 V/DC-36 V/DC uitgangsstroom 1 0 A-5 A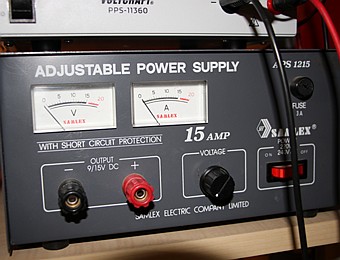 Vermogen 180 W
    remote control via USB
    3 adjustable settings
    Rotary knob for fine and normal adjustment
    Uitvoering (algemeen): Desktop
    Switching
    For professional applications in labs, schools and education.

 USB connection for remote operation
 3 freely definable presets (Preset) for U and I
 Spanning, stroom en uitgang op afstand in- en uit te schakelen
 Switching voltage, current and output on and off remotely
 Protection against overload
 Temperature controlled fan.

APS 1215

Power supply 5-15V-DC and max. 15A
Daimond GZV4000
Diamond GZV-4000 geschakelde voeding 5/15V 40A
Dimensions:210Wx110Hx330Dmm
Weight:3.5kg
Switching mode 40A(continuous, 8hours)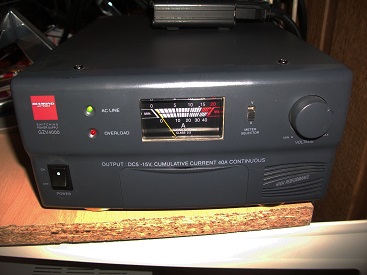 Input voltage:AC230V 9A(50,60Hz)
Output voltage:DC5 to 15V variable
Output current:40A(continuous, 8hours)
Cooling system:Forced air flow with DC fan
Radiocom PS30SW